Walking and hiking at Beauport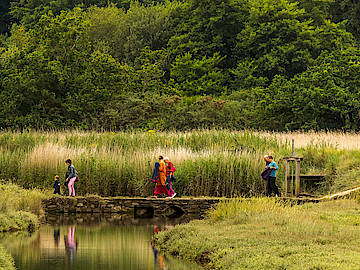 Discover the environment surrounding this historical monument through two walks around the abbey, or by taking the short-distance footpaths that criss-cross the woods of Beauport. Two additional loops provide walkers with a mine of information on the remarkable trees in the gardens and woods. The long-distance footpath GR34 and the Way of Saint James (or "Chemin de Compostelle") pass through Beauport estate.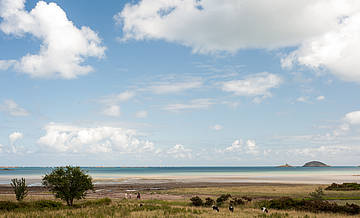 Short-distance walkers can take the Beauport woods route to enjoy over 4 hours of coastal and forest walks. Several variations allow visitors to discover a new aspect of the estate every time.
The short-distance footpath is listed in the guide entitled "Les Côtes d'Armor à pied" (Fédération Française de Randonnée).
More information on the short-distance footpath
A visitor brochure also presents two loops to discover the abbey's immediate surroundings.
(For sale €0.50 at the reception)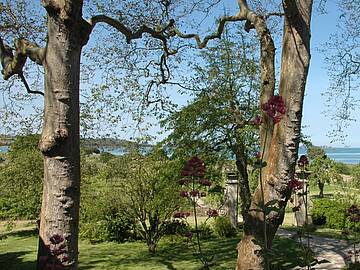 The abbey gardens and Beauport woods are home to some remarkable trees, either for their magnifient crown, their integration in the architecture or their ecological wealth. They constitute an important part of the natural heritage.
The route can be downloaded to your smartphone to enhance your walk with a wealth of information on the most beautiful specimens in the gardens and the estate.
See the Remarkable Trees of Beauport trail (in French only)
GR 34 long-distance trail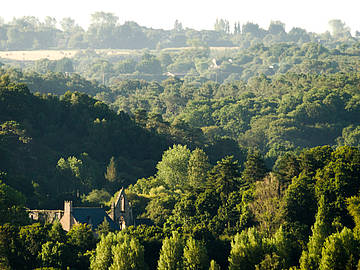 Also known as the "custom officers' path" the GR 34 runs
254 miles (408 km) across the Côtes d'Armor area.
At Beauport, the GR 34 lives up to its reputation. It offers magnificent viewpoints over the abbey and its estate.
The starting point at Beauport Abbey for Santiago de Compostela is one of 5 starting points in Brittany.
The scallop shell that can be seen in the grounds opens the route taken each year by a few dozen pilgrims. Over 1550 miles (2500 km) lie before them for an extraordinary life experience.